Our screw compressors are designed to be installed and operated at a low cost. Supporting customers and providing sales and after-sales services is the belief and work policy of the compressor team of Havayar Company.
Our screw compressors are designed to be installed and operated at a low cost. Supporting customers and providing sales and after-sales services is the belief and work policy of the compressor team of Havayar Company.
Our screw compressors are designed to be installed and operated at a low cost. Supporting customers and providing sales and after-sales services is the belief and work policy of the compressor team of Havayar Company
.
If your operation requires a constant supply of compressed air, you should consider a screw compressor. Unlike reciprocating compressors, screw compressors are used for any operation that requires a 100% continuous duty cycle and are designed to operate reliably for long periods of time
.
Screw compressors are a great alternative to reciprocating units and come in many types depending on your needs and budget. One of these options is the possibility of integrating dryers and different filters in the package, which is used for consumers who need dry and quality air according to the ISO 8573-1: 2010 standard. Click here for more information on the air quality standard
.
In addition, in small packages, the tank can be mounted on top of the screw compressor , which allows for additional storage and, together with the built-in dryer, makes it easy to install. If you have limited space at your workplace and want to save on your installation costs, this screw compressor is ideal. Depending on your budget, there is a screw compressor for you
.
At Havayar, we are with customers in the initial design and production of screw compressors, usually in the smaller KW / HP range, to the production of variable frequency compressors. Of course, variable speed systems are more expensive, but typically offset the initial costs by saving energy. Variable speed screw compressors are a great option for all equipment with current fluctuations. This is especially true when you have multiple facility movements during the day and where the flow demand increases and decreases during the day. Considering that compressed air consumption can be costly and account for more than 70% of the total electricity cost, using variable speed technology can help you achieve 35 to 50% savings. Variable speed air compressors correspond to the amount of flow required. In simpler terms, the screw compressor can sense the amount of current used and adjust its speed accordingly, to allow only the required air to escape. Variable speed air compressors (VSDs) benefit many customers from annual energy savings and the ability to reinvest money in other assets.
Types of oil screw compressor
Constant speed screw compressor
            In this model, the screw compressor has a constant output current due to the constant speed, and is suitable for systems that require a constant             compressed air flow.
Variable speed screw compressor
            In VSD screw compressor models, depending on the amount of compressed air consumption in the system, the idle speed is increased or decreased,             which prevents energy wastage in the system.
How to transfer power in a screw compressor
Power transmission in oil screw compressor is possible in three forms, direct coupling, belt and gearbox, each of which is designed and manufactured according to customer needs.
Power transmission in direct coupling models is possible with coupling.
Power transmission in belt models is possible by grooved pulleys and belts.
Power transmission is possible in gearbox models with gears.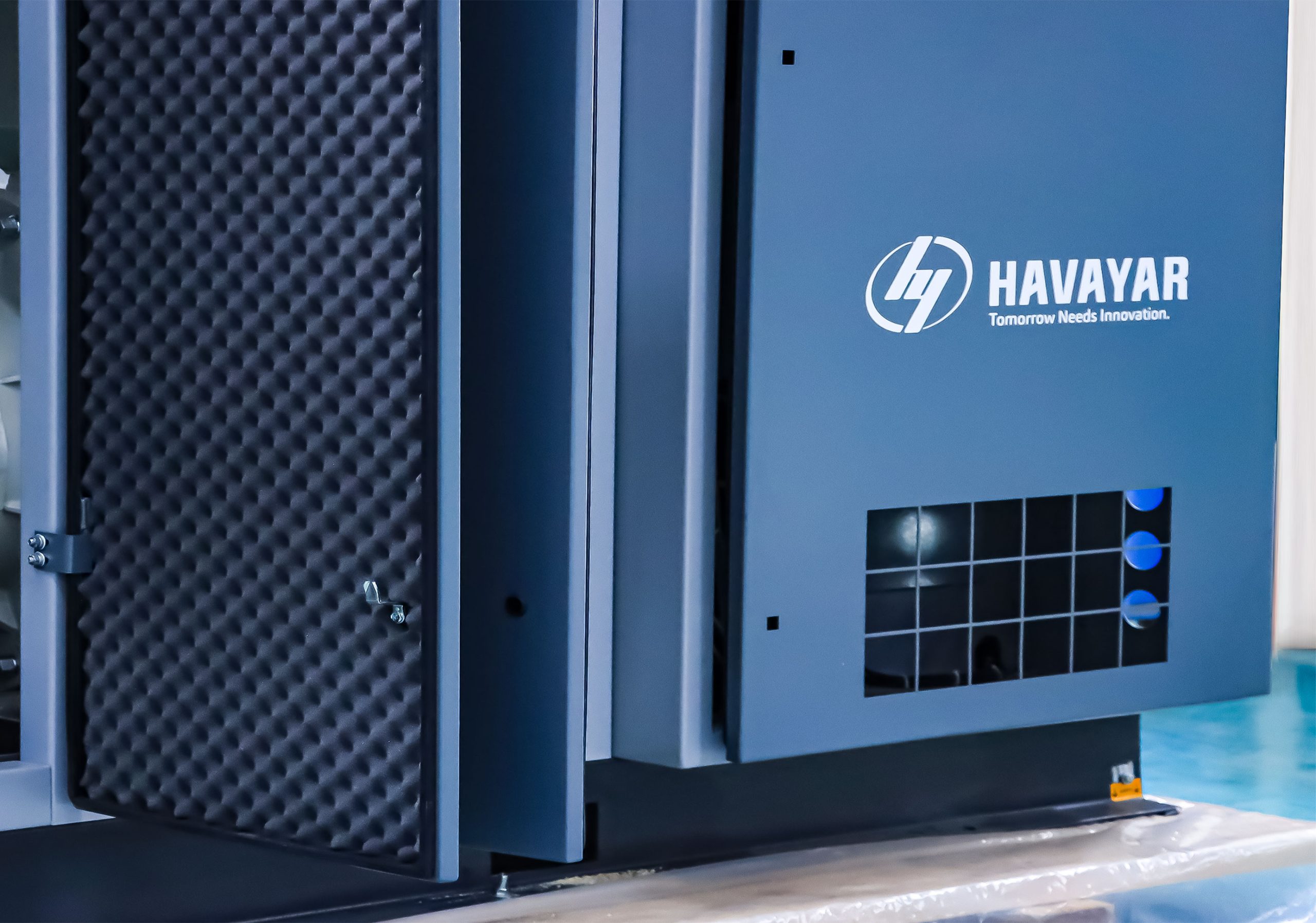 Routine series compressors
Intelligent and special control system
HY series compressors have an electronic control panel that can be programmed.
Less repairs and lower maintenance costs
The use of quality parts from reputable manufacturers has minimized repair costs.
Ability to work at high temperatures
Special design with all the necessary facilities and equipment, the operation of this series of screw compressors in environments with a temperature of about +40 degrees Celsius guarantees, and if the need for operation at higher temperatures, a special design will be performed.
Equipped with noise pollution prevention equipment
 The sound equipment installed in this set greatly reduces the volume of the device and allows the installation of the screw compressor outside the usual spaces (rooms for screw compressor device) so that this set can be installed directly in Installed the work area.
Simple and fast installation
The HY series screw compressor is designed to be installed easily, without the need for foundation and at the lowest cost.
Small size and easy setup
The size of the internal components and their location on the chassis is such that this screw compressor has the smallest possible dimensions of its kind. For easy access to all related fittings and pipes, the derby is located on one side of the device and the main frame of the device has a special slot for easy transport and movement by forklift. The small size of the device allows the device to enter from ordinary and standard interventions.
Design in accordance with environmental standards
Environmental standards in the process of manufacturing and equipping air compressors are fully observed, so that the use of recyclable materials is a priority.
High support for sales and after-sales service
Customers support is at the center of our company's mission and service from sales to after-sales service is part of Havayar's beliefs and work policies.
HYS series Screw Compressor (Custom)
Design and manufacture of screw compressor according to customer needs and requirements
Environmental design of tropical regions (HAT) and cold regions (LAT)
Design adapted to specific environmental conditions (corrosive environment, high pollution, etc.)
Design tailored to explosive environmental conditions
Design and installation of energy storage equipment
Cool water cooling system
VSD variable speed
Screw Compressor controller
Has a current sensor and three-phase control
Compatibility with compressed air management products Compatibility with Airbus 485 protocol
Advanced control algorithms
Compatibility with Modbus protocol
Ability to connect a memory card
Power consumption monitoring
Ethernet connectivity
Internal control system
The oil of screw Compressor
Air oil is a high-quality lubricant and coolant that increases the efficiency of the screw compressor over a wide range of operating temperatures.
The main advantage of this oil is cost savings and reduction of environmental pollution, which has the best performance in different operating conditions of the screw compressor.
Advantages of screw Compressor of Havayar company
Prevent dust particles from penetrating the screw

Inlet air filter and sealing connections Air filter relative to the unloader

Complete separation of particles and oil contaminants

The oil filter is a type of compressor-specific filters from the German brand MANN, which has a by-pass valve.

Ability to work in oscillation and high temperature and axial oscillation dampers

Compressor dedicated joint expansion for air and oil path and air outlet

Frequent reduction of failure percentage and its problems according to the design details observed in the material of the base body of the filter and thermostat and the ability to install pds to monitor the operating conditions of the filter

The filter and thermostatic base is used by the German Wahler brand and the Belgian VMC brand, which are the most reputable brands of compressor parts.

Tolerance of longitudinal and transverse forces without problems in temperature changes and mechanical fluctuations (compatible with thermal and mechanical stresses)

Hoses with cidat or vitiligo or villagomez brands are hoses for temperatures above 135 ° C.

Easy and hassle-free drainage of oil when changing oil

The internal dirt barrier during psv operation and all the volume of gas and oil is directed to the environment outside the compressor

Install the safety valve drain hose

Decrease the volume below 85 decibels

Use of acoustic foams up to DB85 standard

Prevents dust from entering the compressor and practically absorbs about 80% of suspended particles and is washable

Upgrade the protection of the compressor against system pressure surges and prevent collapse and possible fire

Use of two pressure sensors of German Keller brands, CMC Belgium, Dotech Korea to detect the difference between the separator filter pressure with the ability to display tank pressure or oil pressure (apart from the outlet pressure in the control board) and the ability to adjust the allowable pressure drop for filters and display Tank pressure numerically

Ability to measure and manage the electric current of motor phases and display and control OVERLOAD motor (LOCK ROTOR) – sequence control Ability to sequence

Compressor board CMC-Q1 Belgium

Use flange fittings in most fittings

Use of side glass, filter valve and strainer in the suction path (Scavenge line)

Removal of bone hoses and the ability to display oil circulation in the suction path

Use CT in electrical switchboards

Quick detection of flow rate and issuance of related commands by the board

Existence of lighting in the electrical panel as a switch and inside the compressor (manual)

Ability to easily view at night and in dark conditions

Use of electrical panel talc

Operator safety when working with the compressor

Provide joint expansion for installation in piping after compressor separately

Prevent the transmission of piping vibration after the compressor to the compressor

Appropriate labeling and tagging according to P&ID map

Ability to better identify parts

Install shin earth / earth filter separator

Protecting the operator's life from possible electric shock / preventing the separator filter from bursting due to static electricity

Provide systematic compressor test report to the buyer along with the Original Certificate

Ensure complete testing of the device before packaging and delivery to the customer

Provide a valid warranty card and the original air conditioner

Havayar's commitment in providing appropriate product guarantees and warranties